Erin McGuire picked up her third $10,000 Mini Prix blue ribbon of the winter during the PSJ Aiken Challenge Series in Aiken, South Carolina.
Erin and her Dutch Warmblood Kasarr jumped double-clear over the 1.30m course and edged professional Daniel Geitner for the victory, during the final event of the series, held March 5-9.
Professional Jason Berry posted the first clear jump-off ride with Wanderer, which set the pace. Erin and trainer Liza Boyd watched intently as he tackled the course and then further formulated their plan.
"After we watched Jason fly around, I told Erin to go for it," said Liza with a smile. "She had to ride really smartly. During the course, her horse landed from one fence and started bucking. Erin realized she was losing time, so she chose to take a daring inside turn. You could go inside a tree or around it. It was a tricky turn because the next jump came up quickly, but she did it, and her horse jumped amazing."
Erin and Liza then waited and watched Daniel try and take over the lead. "Daniel's horse is bigger, so he was able to leave out strides in the first and second lines," said Liza. "But he lost some time because his horse is slower in the turns. In the end, he couldn't catch Erin. It goes to show that sometimes leaving out strides doesn't help you as much as taking neat inside turns.
"Daniel was a great sport and joked when he came out of the ring, 'I'm tired of risking my life for second place,' " added Liza with a laugh.
To read more about Erin's victory in the Aiken Standard, please click here.
Erin's success also continued in the hunter ring, where she and Casallo picked up the Amateur-Owner Hunter Championship and second place in the Junior/Amateur-Owner Hunter Classic. Casallo was returning to the ring after a winter break of two months.
"This was the longest break he's ever had," said Liza. "Erin rode him every day to keep him fit, but he hasn't shown since the beginning of January. Here, he was very bright and crisp and jumped high. He looked really refreshed."
The riders and horses who recently returned home from the FTI Winter Equestrian Festival circuit in Florida made great strides in Aiken, taking top ribbons and showing newfound confidence.
Mary Mitchener and Waccamaw jumped up to claim the reserve championship in the 3'3" Junior Hunter section.
"She was so consistent this week and rode so well," said Liza. "When she first started the 3'3" section in January, her eyes were big. You might not think that 3" can make such a big difference when moving up from the Children's Hunters, but it's a combination of factors. In the Junior Hunters you jog and have a Handy Hunter course, so there's more pressure.
"After going to Florida for three weeks and doing the World Championship Hunter Rider week there, coming back to Aiken seemed like a piece of cake," added Liza. "In the Handy, she did the one hard turn that was really tricky. She could have gone the easy route, but she didn't, and there was a huge difference between her riding in January and now."
Emma Wilson's Ajax also returned from Florida with more mileage, and that experience was evident as he earned the Pre-Green Hunter championship with Daniel Geitner aboard and also partnered with Emma as she made her debut in the 3' Children's Hunter section.
"Daniel noticed right away how much the horse had learned in Florida," said Liza. "It's amazing what a couple of weeks in a row will do in that environment for a young horse. Daniel gave him a great ride, and it was wonderful that Emma was able to move up. Every class got better and better, and by the end she was right where we hoped she'd be."
Bethel's Peri and Grace Howard won two classes on their way to the Junior Hunter reserve championship. "Grace did the equitation classes in Florida, so she was on her game during Aiken," said Liza. "He's a very seasoned horse, and she has a strong partnership with him, so it was great to see them come back so strong after a nice winter break."
Laura Critz and Quatrain continued picking up blue ribbons in the 3'3" Junior Hunters, and a strong third-placed finish in the Junior/Amateur Hunter Classic capped off their weekend. "After the classic, Erin said, 'Laura was third and only 1 point behind me. She's catching up!' " said Liza. "That was really cute!"
Finally Farm horses and riders will be home this week for lots of lessons. Many riders will be on spring break, so Liza looks forward to "Camp Finally Farm" as riders spend time in Camden ramping up for the upcoming Atlanta Spring Classic Horse Show in Conyers, Georgia.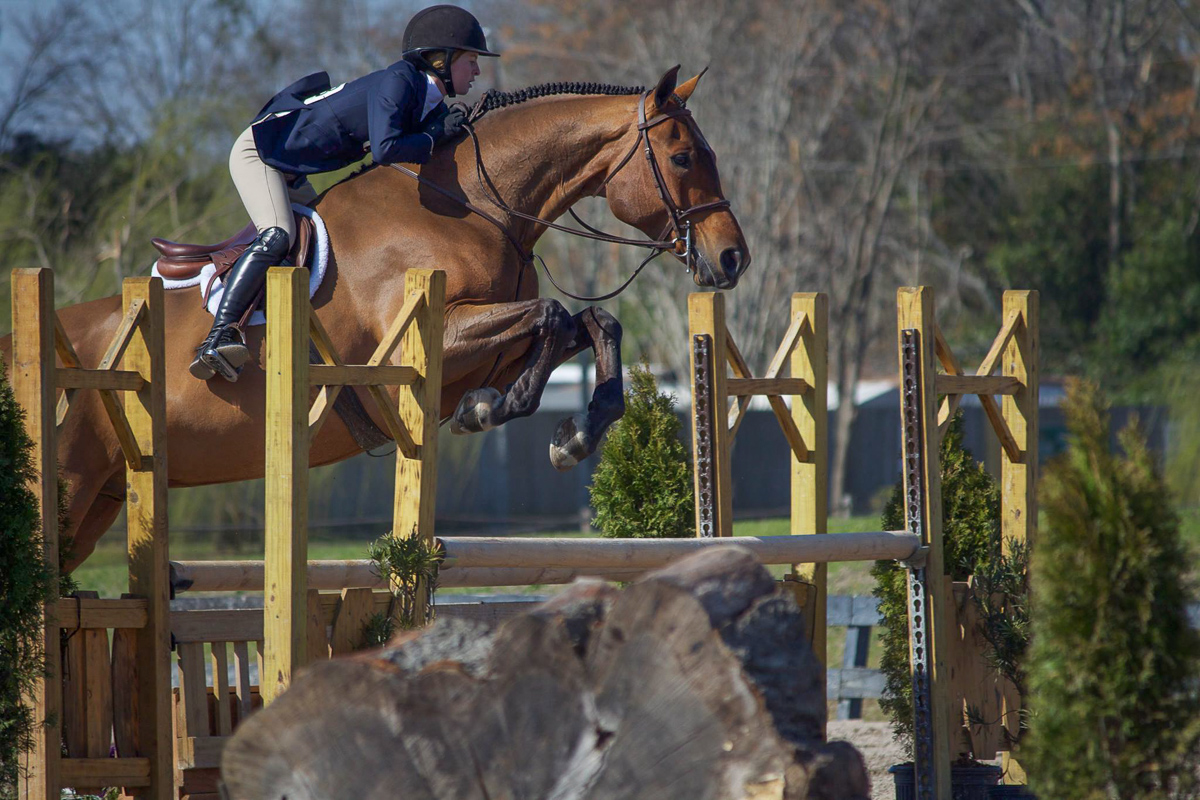 Please enjoy this slide show from Aiken. Special thanks to Erin McGuire for the great photos!