Finally Farm spent the past several weeks collecting additional accolades in Wellington, Florida, on the Winter Equestrian Festival circuit during Weeks 7 and 8 and at the Deeridge Derby.
Liza Boyd and Clemens captured the coveted World Equestrian Center USHJA National Hunter Derby at Deeridge on March 3 as one of the major highlights.
Special thanks to Classic Communications for allowing us to reprint a portion of the Press Release:
March 3 - Wellington, FL - The majesty and grace of some of the world's best hunters were on display at the Deeridge Derby, part of the Palm Beach Masters series at Deeridge Farms, a spectacular world-class venue in Wellington, Florida.
Liza Boyd and Clemens, owned by the family's Finally Farm and Westerly Farm, won the $5,000 World Equestrian Center USHJA National Hunter Derby in convincing style. The pair had the highest score in the first round over the Steve Stephens-designed course, garnering a 92 and then topping that off with a 93 in the second round.
There was no question about how well they had done as they finished the final round, as Boyd's father, Jack Towell, enthusiastically voiced his pleasure for all to hear. Boyd adds this victory to her more than 25 USHJA International and National Hunter Derby titles. With her famous mount Brunello, she won the 2013, 2014 and 2015 USHJA International Hunter Derby Championship.
"Clemens is an up-and-coming Derby prospect that I'm really excited about; he may even be my next Brunello," said Boyd. "The course today suited him. Steve Stephens and I get along really well. I just love the way his courses flow. He gives you a lot of bending lines that allow you to gallop; they are very inviting. The grass rode beautifully, the jumps were excellent, it was a really great experience for an up-and-coming Derby horse. I couldn't be happier."
Finally Farm clients also enjoyed galloping around on the grass at Deeridge and picking up ribbons in the USHJA National Junior/Amateur Hunter Derby. Maggie Hill guided Charmeur to sixth and Shamrock to ninth, while Elly Ficca picked up seventh place aboard Cleopatra's Smile.
"It's so fun to have the kids doing these classes," said Boyd. "Seeing those girls step up into this atmosphere and doing these big classes is great. They're a great stepping stone to the International Hunter derbies they'll soon be doing."
Liza said their aim this week was the Deeridge Derby to give the horses and riders a change of venue. "It was also a change of pace for us, and we weren't running from ring to ring. It was nice for the riders, horses and grooms to have a more relaxing week. And to ride on the grass is a great experience for the horses and the kids!"
Liza was also pleased that Elly and Maggie have made such great progress over the circuit with their new horses, and the added challenge of the derby was a testament to their hard work. While Elly commutes back and forth to ride and show, she manages to juggle riding and academics with excellent results.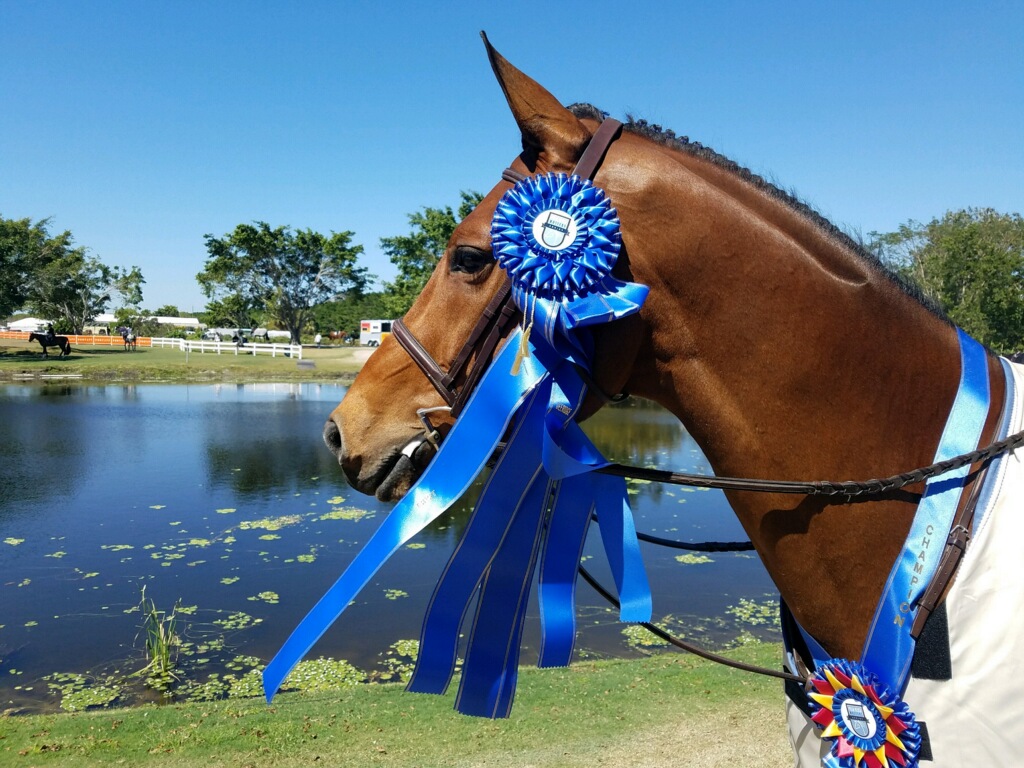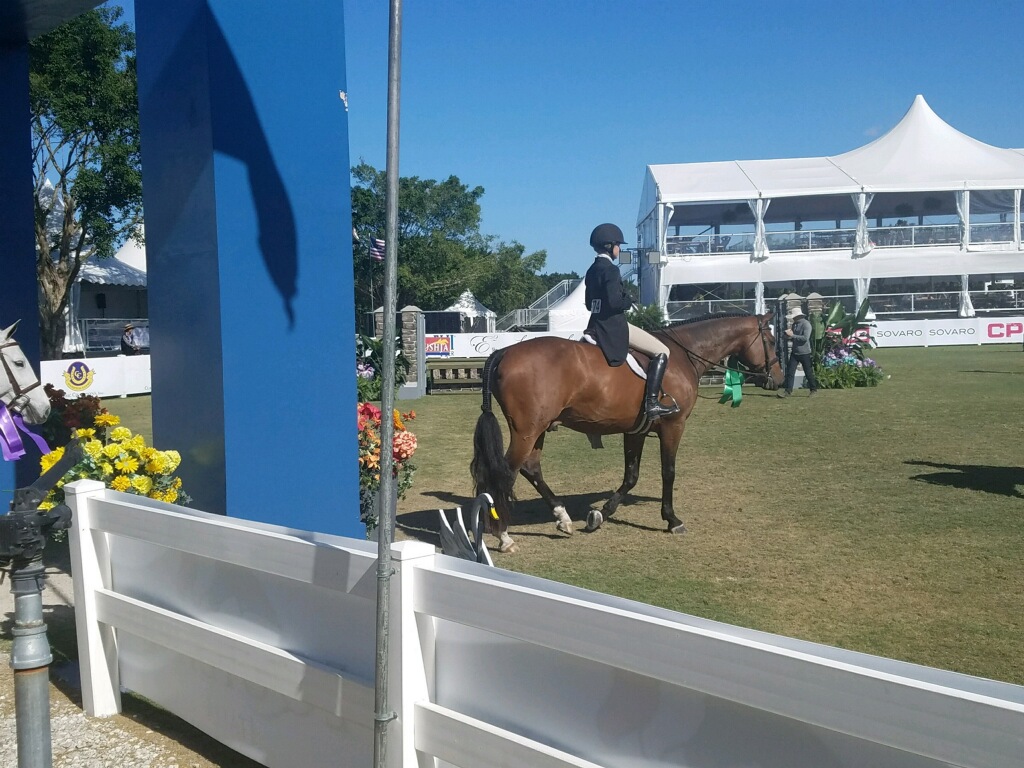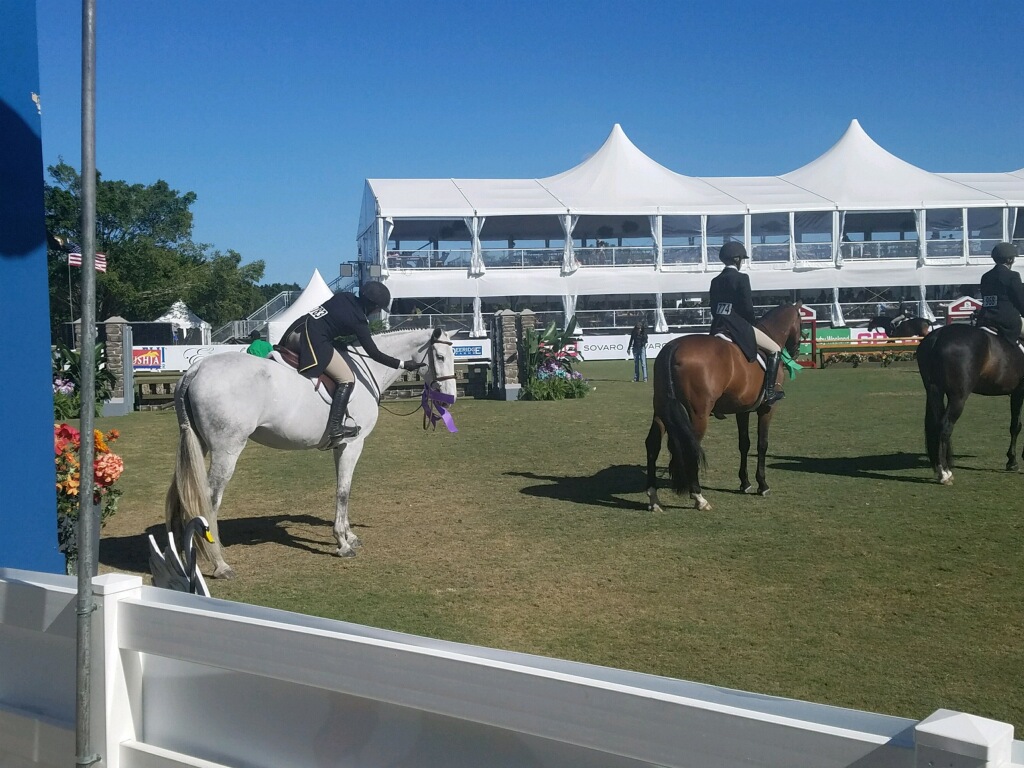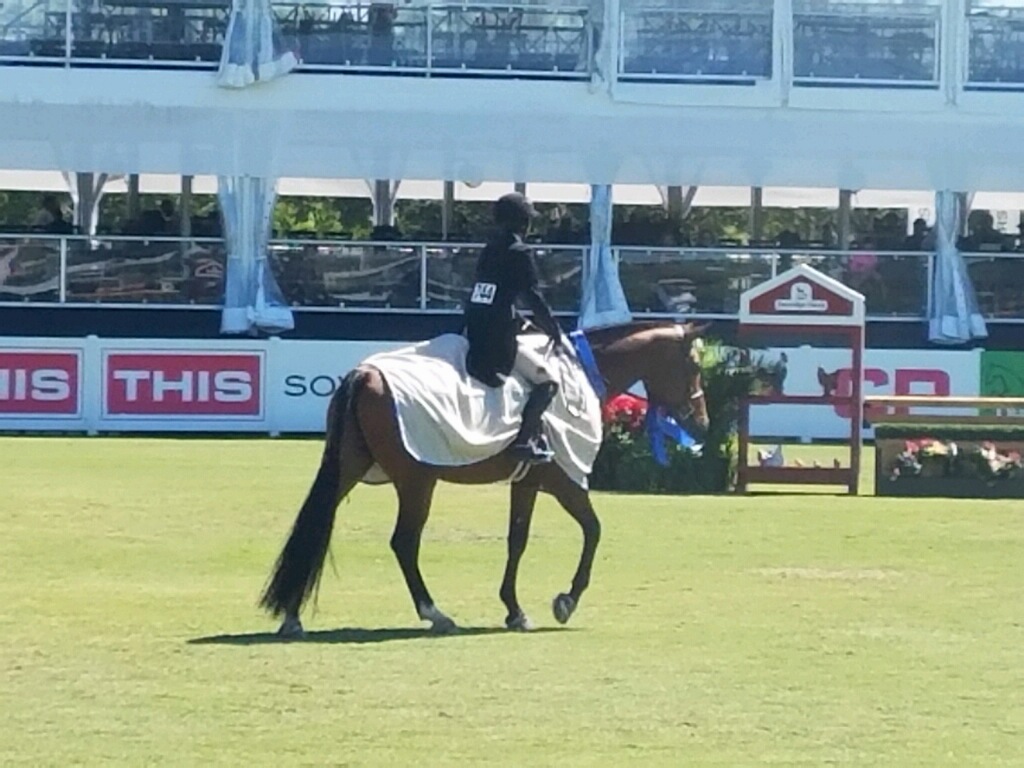 "The courses at Deeridge were really technical, with long numbers and it was a challenge to make the in and the out of each line match," she said. "This experience will help them both when they walk into a ring like Devon later this year."
During WEF 8, Maggie also picked up her first championship in the Junior Hunters with a well-earned tricolor aboard O'Ryan in Section A of the Small Juniors.
"She was solid and consistent coming off Week 6, where she competed in the $100,000 WCHR Peter Wetherill Palm Beach Hunter Spectacular," said Liza. "She was really relaxed and confident after doing that night class with Cassanto.
"It's really rewarding for Jack and I to see how far she's come," Liza added. "Two years ago she was doing Nevada in the 2'6" Pre-Children's and now she's qualifying and showing in the night class in Palm Beach. Yes, she has a lovely group of horses, but she's also a very dedicated and hard working young rider."
Elle Boyd added another pony to double the fun in the Short Stirrup section. During Week 7 she was reserve champion on Otis Spunkmeyer and also earned ribbons aboard her new mount, Clovercroft Show Me The Bunny, owned by Ashland Farm.
"She'll have him for the rest of the circuit, and It's great. I told her, 'You can't ride only Otis the rest of your life,'" said Liza laughing. "Jack helps her, and it's perfect because I can step back and he can be the coach and I'm the mom. This system seems to work really well for us, and Elle is having a great time."
Liz Fogleman and Sawyer moved up to the 3' Adult Amateur Hunters for the first time and captured impressive ribbons. "I'm really proud of her and how she's brought him along," said Liza of Liz. "Going from 2'6" to 3' here is challenging. She competed in the Rost Ring, where the courses are technical and the jumps are solid. They were great."
Gigi Manigault also picked up top placings aboard Spyglass in the Children's Hunter, 15-17, section.. "We just started helping her and are excited to have her in the barn," said Liza. "Gigi is having fun with the girls and fits right in. I've been Impressed with her just hopping on the horse and not knowing him well. She's had nice ribbons and consistent rounds."
Bridget Hallman celebrated her birthday during WEF 7 with blue-ribbon results in the Amateur-Owner, 36 and over, Hunters by winning the stake class aboard Gala and earning a reserve championship in the Adult Amateur Hunters on Lulu.